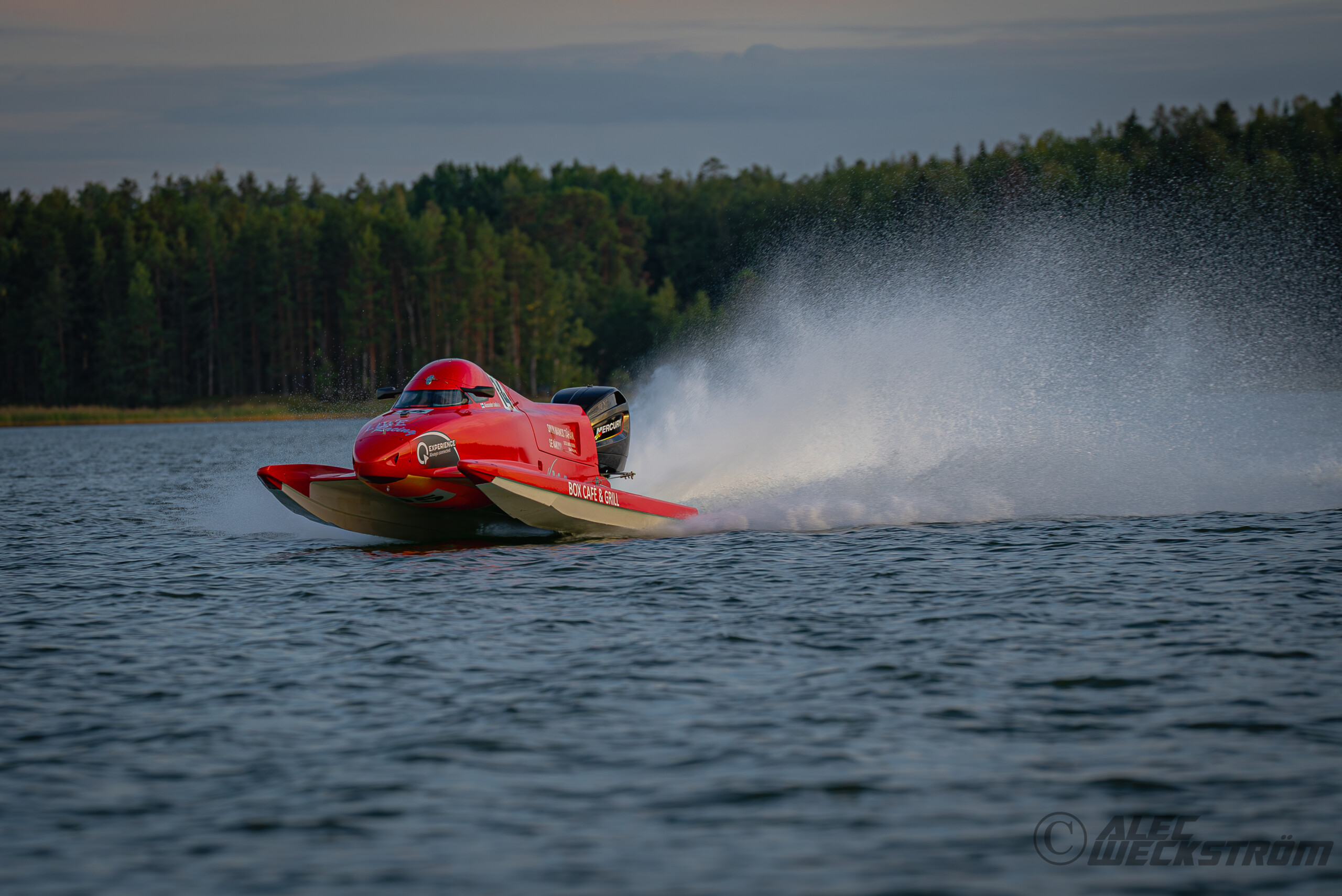 LiWe Racing's Molgaard Catamaran
In the summer of 2023 Nextfour Group, producer of Q Experience, and LiWe Racing F2 started a collaboration that will revolutionize both parties' operations. "The Formula classes are the pinnacle of what power boats can achieve, if our product can stand up to their standards, there are few obstacles left in our market", says Lasse Landor After Sales Manager at Nextfour Group.
Lasse Landor (left) and Alexander Lindholm (right) in front of LiWe Racing's Molgaard Catamaran
The Finnish racing team LiWe Racing has had a successful run in the F4 class, with driver Alexander Lindholm becoming the F4 Class World Champion in 2020 and claiming second place in 2021. In addition, Lindholm has a long list of merits, including Nordic Championship gold in 2019 and Finnish Championship wins in 2019 and 2021. After such success in the F4 class, LiWe Racing decided to take on new challenges and new opportunities. In the fall of 2022, LiWe Racing decided to make the shift to the F2 Powerboat class. "This is an exciting opportunity for us", says Team Principal Jan-Erik Lindholm. "We at LiWe Racing take pride in building as much of the boat as possible ourselves, for example, the World Championship F4 boat was built from scratch by us" J-E. Lindholm continues. LiWe Racing's ambitions are to at some point build a F2 Word Championship boat. However to understand the F2 class it is best to start with a prebuilt package. "No boat package is complete when bought, there are a huge number of changes and finetuning needed to set up the package for Alexander", says J-E Lindholm. When building and setting up an F2 powerboat, driving data becomes paramount.
This is where Nextfour Group comes in. Nextfour Group produces the Q Experience product line, with their flagship Q Display. "We are currently the market leaders in marine connectivity for leisure crafts, now we want to take it one step further", Landor notes. "Our ambitions are to be able to gather all driving and performance data from crafts with a Q Experience product installed" Landor continues. The ability to gather driving data is no innovation, Q Displays have been doing this since 2017. However, Nextfour Group wants to give its customers a complete insight into what is going on in the boat while driving. Racing is the perfect place to put the technology to the test. "Gathering data at speeds over 170kmh, while live streaming it to anywhere in the world with a ten times a second update interval is something truly groundbreaking" Landor adds. The hardware in LiWe Racing's F2 powerboat is exactly the same as the hardware found in any of the tens of thousands of boats equipped with a Q Display today.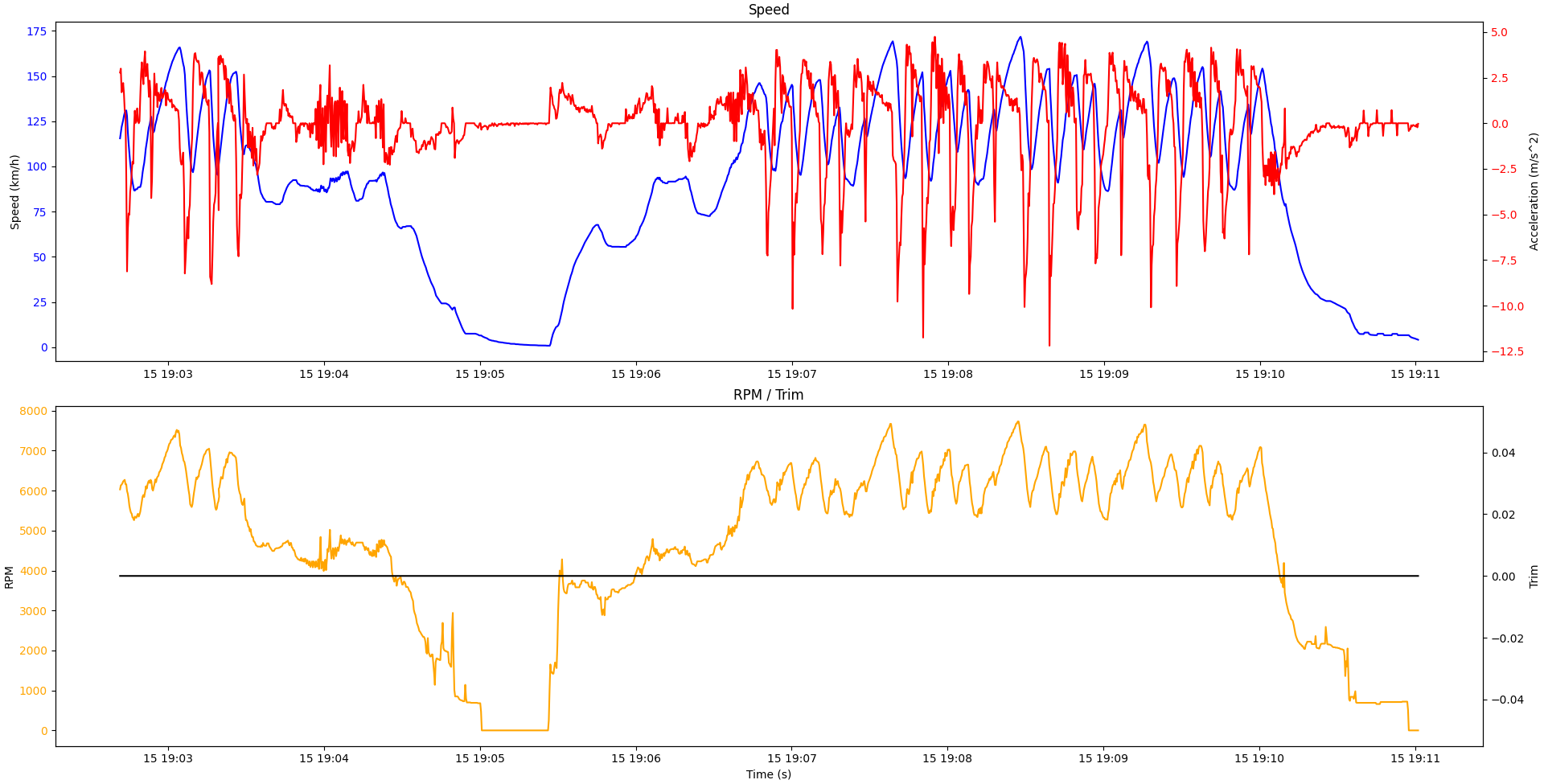 RPM/Speed: Real-time telemetry data for speed, RPM and Acceleration
The data collected by Q Display will not only be valuable for boat manufacturers perfecting a hull, and powertrain developers studying the efficiency of their propulsion, but also for the end user to understand how they are utilizing their craft. "With the number of sensors and amount of data running through a modern boat, it is paramount that we utilize everything we can to understand boating better than ever" says Niklas Öhman, CEO at Nextfour Group.
Nextfour Group has already been at the forefront of marine navigation and vessel surveillance with the Q Experience products since 2016. In 2023 the addition of data gathering and data streaming was developed. The projects, under the code name Thundercloud (data gathering) and Hailstorm (data streaming), were originally only meant for selected applications. However, once the prototype was made and proven in the field it was clear that this was going to revolutionize the whole boating industry.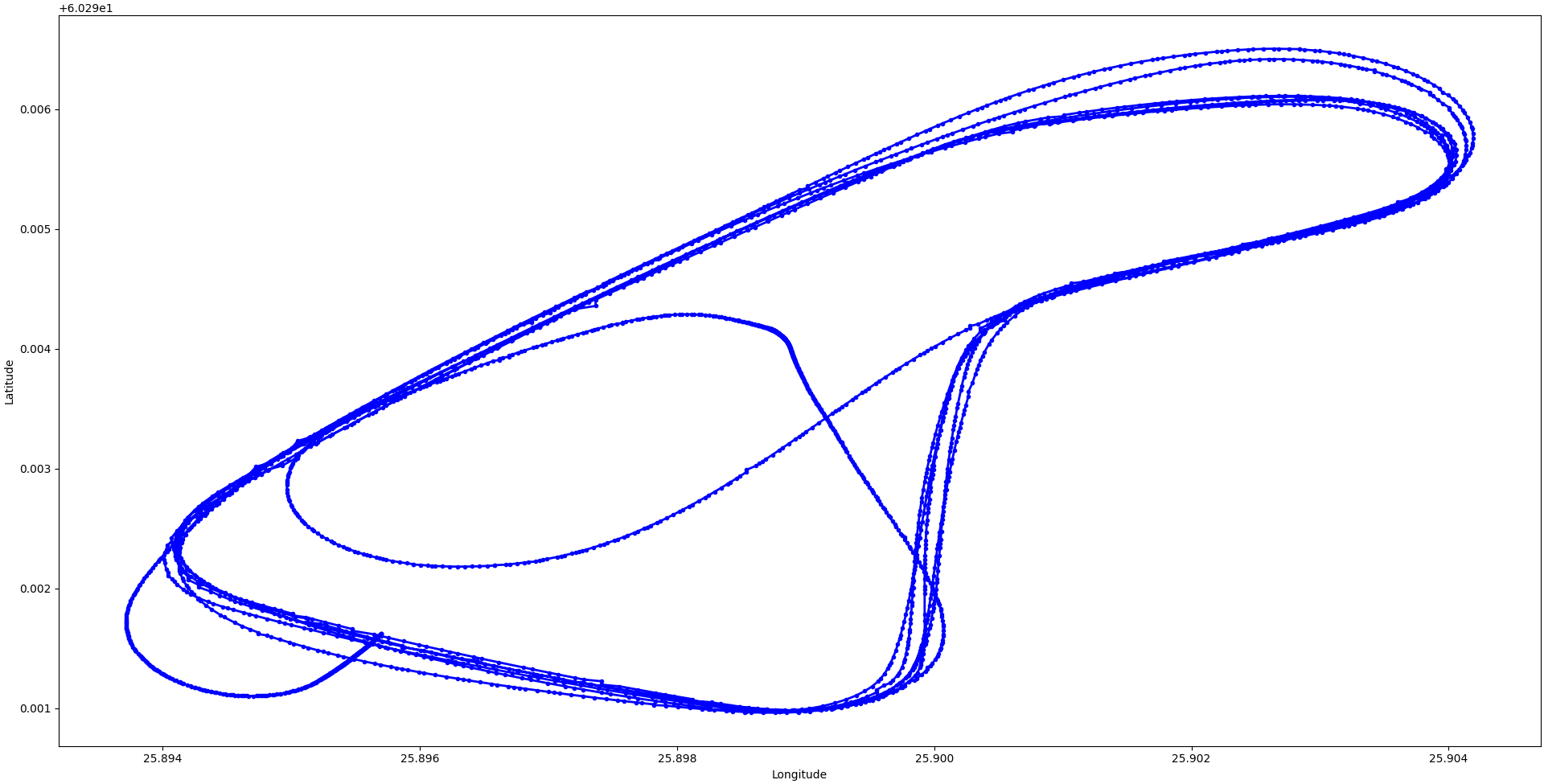 Real-time racing lines telemetry data
Where is all of this going? For LiWe Racing having the engine data side by side with the GPS data is an exciting opportunity. "The partnership with Nextfour Group truly feels like it has potential for something great!" J-E. Lindholm exclaims. The data-gathering possibilities have come a long way since J-E. Lindholm raced in the 1980's, this definitely feels like a step in the right direction. The only thing LiWe Racing must sort out now is the sponsorships needed to secure a place on the F2 World Championship grid. The team already has extensive technical knowledge and racing experience, however, financing an attendance in the F2 World Championship is difficult at these times. "Nevertheless, we will make it work, we always do." J-E Lindholm adds with a sparkle in his eye.
Nextfour Group hopes to take what we have learnt from our partnership with LiWe Racing and apply it in a commercial setting. Gathering racing data from one boat is one thing, gathering and creating valuable insights for a manufacturer with thousands of boats is another. "We have come a long way, and our company has extensive experience gathering and storing data in a secure manner." Says Öhman and hints to his organization's success in the medical field. "Nextfour Group is an organization that has the ability to consolidate knowledge across the many projects and professionals in our tightly knit organization" Öhman adds. There is no denying that the marine business is moving toward a connected future, and Q Experience is stable for this change. Including all parties, from boat manufacturers to boaters, to take part in this change.
Inquiries and more information about Q Experience:
Niklas Öhman
CEO, Nextfour Group
niklas.ohman@nextfour.com 

Lasse Landor
After Sales Manager, Nextfour Group
lasse.landor@nextfour.com
Interested in being part of LiWe Racing's F2 journey?
Jan-Erik Lindholm
Team Principal, LiWe Racing
jan-erik.lindholm63@outlook.com
Alexander Lindholm
Driver, LiWe Racing
alexander.lindholm.96@gmail.com