Views and applications
Customizable views with different view templates (fullscreen, vertical, horizontal, picture-in-picture)
Notification center for phone calls, weather, malfunctions and system updates. Indicated by different colors.
Split views – up to 4 different views visible at the same time.
Different settings and individual preferences for each view
Pinned views in the sidebar for easier and faster access
Own application menus for each application.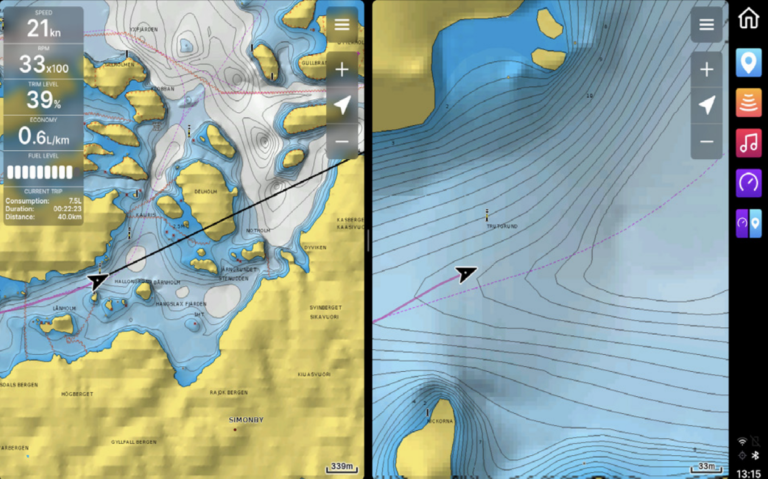 Map and navigation
Enhanced basic map functions
"What's here" -feature to inspect nearby marine markers, chart notation and points of interest.
Detailed chart settings with chart layers, depths and altitudes. Includes satellite overlays. Compatible with Navionics SonarChart.
See ahead, bird-eye-view, and fuel range display widgets for easier navigation.
Compact dashboard widget to display on the map. Features in the compact dashboard can be re-ordered, and the shown features can be chosen.
Music, Weather & Info
Built-in audio amplifier.
Entertainment center with Bluetooth, AUX, and radio.
Equalizer for fine-tuning the audio profile.
Real-time weather forecast for the next 24 hours, based on AccuWeather's data.
Daily weather overviews for the next five days.
Info application for all guides, essential links and info.
Settings & Mobile App
Multiple users feature with customized settings for each user.
Display handedness for both right and left handed users.
Multiple display themes to choose from (boat manufacturer, dark, light, sand, night mode)
GPS sources internal and NMEA. •Q Mobile App with Boat Guard -feature. Alerts your phone in case of engine theft, fire, or if there's water in the bilge.
Mobile app also includes 24/7 boat and boating trip info.
Need help?
Don't hesitate to contact Q Support with any question about the use of your Q Display.
q-support@nextfour.com