Piece of mind with Boat Guard!
Q Display 2 Series has more features that can be used and controlled with the Q Mobile App. One of these is the Boat Guard antitheft feature. Boat guard's antitheft alarm keeps your boat safe in the docks, and alerts your phone when your boat is in danger.
The Boat Guard is on when the Q Display is not, checking the status of your Q Display every 10 minutes. You can see every security update from the guard log, where all changes in the guard mode are color coded for easy review. The Boat Guard feature can be found in the Q Experience, Buster, and Yamarin mobile apps.

Keeping your guard up with antitheft features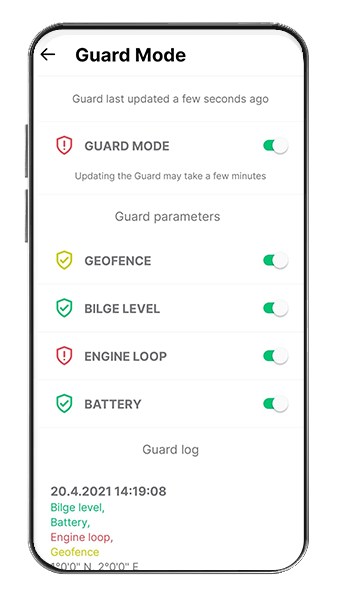 1 Guard mode
Guard mode is on when the Q Display is not. It keeps your boat safe while its in the docks. After first connection, the guard mode will be automatically activated when you turn your Q Display off. You can also turn the guard mode on and off from the guard mode toggle bar on the top of the guard view. Please note, that the guard mode isn't active when the Q Display is on. Make also sure to switch guard mode off when doing maintenance work!
2 Geofence
With geofence you can stay up to date with your Q Display's location. Positions can be seen in coordinates from the guard log. When your Q Display isn't on, geofence will notify you if your boat moves over 50 meter of where it is parked.
3 Bilge level
Bilge level will alarm you in case your boat is filling with water. It keeps an eye on the boat, and will notify you if it detects incoming water.
4 Engine loop & siren
Engine loop keeps an eye on your boat's engine. In case of engine theft a loud siren will go off and you will get a notification on your phone. The siren will ring in 1 minute loops, and it can be switched off by disenabling the guard mode from the Q mobile app. It takes a maximum of 10 minutes for the siren to die after switching it off.
5 Battery
Battery feature will alarm you if your boat's battery runs out, or if the battery or your Q Display is stolen.
6 Guard log
All of the updates and changes that happen in guard mode will be recorded in the guard log. Changes will be implied in different colors.
Color coded notifications straight to your phone
Green
All good! Everything is fine and working as it's supposed to.
Yellow
Something is slightly off. For example if geofence turns yellow, the boat position cannot be found. Make sure all the cables are connected correctly and everything is in order.
Red
Attention needed! Your boat or Q Display might be in danger. Check your boat according to the feature that has turned red.
Get more user info on boat guard
Want to know more? Need help using the boat guard feature? Download the PDF by selecting the image below or clicking the Download button.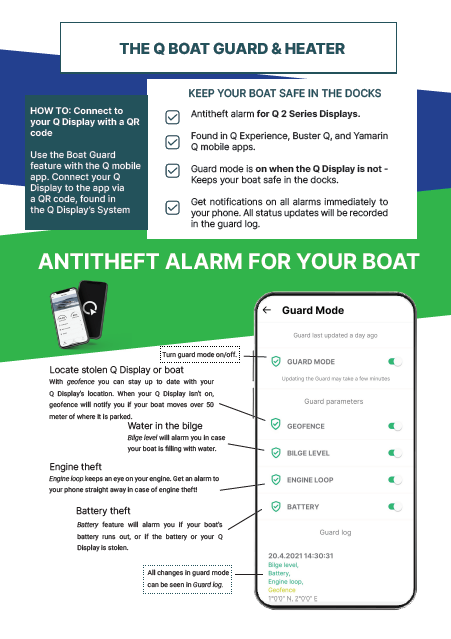 How to: Connect to your Q Display with a QR code
You can use the Guard feature with Q Experience/Buster/Yamarin mobile apps. Download the right Q mobile app from your phone's app store, and sign up as a new user, or sign in if you already have a user profile. Remember then to add your boat info to the mobile app!
Select your boat with the Q Display from My boats.
Click on Edit.
Select Link Q Display (or Link Buster/Yamarin Q)
Give consent for the connection.
Scan the QR code from your Q Display with the camera view that opens in your app.
The QR code can be found in the Q Display's System settings (Settings -> system settings).
How to: Get the guard feature to your Q Display
The Q Experience's Boat Guard feature is so far made only for the Q Display 2 Series. The feature does not currently work in the Series 1 displays.
For the boat guard feature to work, your boat needs guard cables attached to the Q Display. Some retailers already have the guard cables installed to the boats they are selling, and you'll automatically get the guard feature to your boat. Make sure to ask your retailer if your boat will have the cables installed!
Do you have a Q Series 2 Display (2021-), but you are missing the needed guard cables? You can soon buy the guard cables straight from our web store, which is opening later this spring!
Need more info? Contact us at q-support@nextfour.com with any questions or requests you might have.