This is a maintenance release with only a few visual changes. Most of the changes are non-visual features, bug fixes and optimizations.
NOTE: Check also the release notes of the previous releases to find out information about new features. You can find these in Info > Release notes.
Notable improvements:
Startup speed greatly improved.
Custom chart place icons. When adding/editing a place you can now change the shape, center icon and color of it.
Distance and duration estimations to the destination improved.
Google Maps:
Added new search categories to the chart's search feature: Boat service, and Grocery. Find these in Chart settings > Search. This feature requires an internet connection.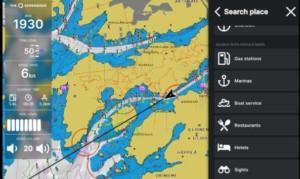 New feature: Statistics
Access statistics from Info > Statistics
Currently one statistic report available: Driving economy. When enough driving data is available you can access information about driving economy with different engine RPMs.
New gauges:
Speed through water. If a supporting NMEA device is connected, you can now add a gauge to display the speed through water.
Release Notes in PDF form:
Need help?
Do not hesitate to contact Q Support with any question about the use of your Q Display. q-support@nextfour.com